All of us at Adam the Key Man understand the lure of a great bargain. There are dealers out there selling low quality security under the guise of affordable. Poor security technology can put at risk the very safety of your home. All of the technology and products that are used by us at Locksmith in Delaware are from trusted name brands. These are lock brands like Baldwin, Arrow, Yale, Viro, Chubb, Evva, Briton, Era, Lockey, Legge, Abus, and many others. Our technology can be trusted to save your way of life from burglaries and break ins.
Locksmith Delaware Recommends for the Customer Alarms
When a lock is not enough it can be important to have a warning system in place. All of us at Locksmith in Delaware can recommend an alarm design that would act as a deterrence. These are alarms that can also be combined with fire alarms. At Adam the Key Man we can offer Firex, Paragon, and many other brands that have been proven to function if installed correctly. We have the tools to correctly install these brands that will act as a warning system if anything in the home has gone wrong.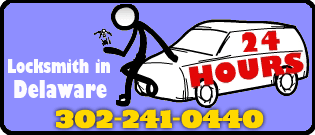 A Locksmith in Delaware that Repairs and Reprograms Car Keys
If you are in need then call us and we can a specialist arrive roadside. We have a locksmith in Delaware that can repair ignitions and locks, as well as, reprogram transponders for key duplication. If you are having troubles roadside then we can bring to you the repairs that you need. We can make it easy for the owners water crafts, motorcycles, automobiles, and tractors. This a greater convenience and a better price than the dealer ship or auto mechanic. We are working hard and around the clock for your automobile health.
The Locksmith in Delaware that Specializes in Safes and Vaults
The Safe and Vault Technicians Association has certified our locksmith in Delaware as the local leader for repairs, installation, and professional cracking. We are working around the clock to bring our customers a little extra security for storing documents, fire arms, or valuables. We work with all the major brand names like Fire King, ioSafe, Hamilton, Gun Vault, and others. There is a specialist on the road read to deliver and instal a brand new vault for your home or office. Call us at 302-241-0440 before things become urgent.
Member Technicians of Associated Locksmiths of America
The importance of hiring a technician that is a member of ALOA is noted in the quality of the service. ALOA is the sets the standard for physical security in the Western World. You can depend on the knowledge of our experts because it has been tested through rigorous exams. You can depend on our technology because we only work with certified ALOA products. We have taken the to ensure our locksmiths have completed the training to set them apart from simple technicians. We offering free advice for the consumer.
Customizing a Very Secure Workplace Security
We have these technicians that work with all the types of locks. These are locks like jimmy proof deadbolts, card keys, electronic locks, electric strike, mortise locks, rim locks, and so many others. With these products, our locksmith can build a security that is specific for your business. This is the ultimate security at a low price. Each locksmith wants you to feel safe at work and we want to help save you money. Our security systems can help lower the cost of insurance. These are savings that greater than the cost of installation.
A Residential Locksmith and Professional Lock Picker
Eventually it will happen to all of us. We will forget our keys and get locked out of our home. That is why we are offering and emergency professional lock picker. We have a locksmith that can help open any form of security with out damaging the device. Essentially, we have a built a service to save you from a minor inconvenience. It is important that an amateur can damage the lock during a forced entry and that lock would need replacing. That is more expensive than getting a professional to open the door.